<!vvvvvvvvvvvvvvvvvvvvvvvvvvvvvvvvvvvvvvvvvvvvvvvvvvvvvvvvvvvvvvvvvvvvvvvvv>
Morini Riders Club out and about...
Please click on the panels below to read about some of our recent events.
If you enjoyed an event which you would like to see included here, please Contact Us
AGM / Rally / Lincoln Cathedral Ride Out, June 2015
Cadwell Park, June 2012
Our track day at Cadwell is generally regarded as one of the highlights of the club calendar and this year was no exception. With a special anniversary also (30 years at Cadwell) the club made a special effort to celebrate the day in style.
Despite a poor weather forecast most of the record entry took a leap of faith and arrived at Cadwell for the 7.30am start. They were rewarded with sunny skies, a drying track and the prospect of a fun day on track. If you have never been before all of Morini's rich and diverse heritage is on show from singles, all models and variants of the 350 & 500 right through to latest offerings from the Bologna factory. Mix this will the charm of Cadwell Park and you have a unique event.

A special thanks to Chris Webber for the limited edition Tee Shirts, for Stuart and his team from North Leicester who once again help us with the day, to Cadwell and their very patient staff and Dave Marlow of course who acted as ring master for the day. If you are still wondering if the track day is worth attending then here are a few comments from the day which may persuade you to join us next year:
Our trip down was good whatever it lasted 16h45, with 11H30 at the steer and some 1163 km and some more sailing over the Channel (I was not at the helm). We had spent a fabulous day, as already said it was for me like a child's dream, to ride on that mythic track and I had not been disappointed. The warm and friendly atmosphere has made the things still more unforgettable. Thank you again to all of you and hoping to see you again in a close future.
I must say I thoroughly enjoyed the day at Cadwell which was extremely well organised and went like clockwork. We were incredibly lucky with the weather. Everyone was so friendly and cooperative, it made the day.
I hope that none of the fallers had injuries extending beyond their damaged egos! I don't know who it was but one rider in one of the Morini outings went past me like a scalded cat, cranked right over, knee out a la Rossi. I remember thinking that he looked as though he might throw it away at any moment but I have to say I didn't see one incident in our outings. I wouldn't have wanted to have seen any bruised V twins!
Thanks again to you and all the organisers, a credit to the club.
Just a quick note of thanks on behalf of me and my mate Mike – the 2 blue Guzzi Le Mans (and 888 Duke). It was our first Morini Track Day, and my first experience of riding at Cadwell. We had a great time, got loads of track time, and came away wanting to do more of the same! The event was well-organised, with a great atmosphere and with the vast majority being sensible, friendly riders. It was great to catch up with a few people I know from other places: Tony Page and Arthur Farrow are 2 who come to mind. Everyone was really friendly and helpful, both Cadwell Staff and Morini people. Even the weather behaved: riding up from Wiltshire in the p*ssing rain on Thursday night I had my doubts, but it was well worth the effort. I was pretty pooped by the time I got home late on fri evening though! I just need to get my clutch/gearbox changed before the FOTB at Mallory in less than 3 weeks... Thanks again, and hope to join you guys again next year.
Dijon – les Coupes Moto Legende, May 2012
The MRC had a very successful trip over the weekend of 26/27th May to the classic motorcycle meeting at the Dijon race circuit – les Coupes Moto Legende. An eclectic group of Morinis, old and new, rode through the glorious French countryside under perfect blue skies, getting lost at regular intervals. The event at Dijon was spectacular, and we cemented the entente cordiale with the French club Moto Morini Passion, who entertained us generously. All the bikes completed the 5-day journey of over 1,000 miles with total mechanical reliability and we are now planning more continental raids for next year. Full reports and photos of the Dijon trip will appear in A Tutto Gas in the near future.
The Classic Bike Guide Winter Show, Newark Show Ground, January 2012
Once again John Parbery (second from the left) pulled together another impressive line up of bikes for the The Classic Bike Guide Winter Show at Newark. Dave Mason (at the back) brought over his very clean 1975 drum brake Strada. Jenny Westwood (not in picture) provided her 350 Sport. Paul Compton (far right) a regular contributor to the club stand lent his 83 500 Sport and finally but not least Paul Emmerson (second from the right) rode his 9 ½ to the show to represent Morini's modern era. Despite the cool weather members and non members received a warm welcome on the stand with plenty of technical help and advice on hand. (Thanks to Paul Compton) For those wanting to take the opportunity of avoiding p&p a full range of club products were available, some of which were offered at half price. Also on sale were some of the last 2012 calendars, along with our newly available memory sticks containing past issues of ATG. A special thanks goes to Roy Master (far left) who assisted throughout the weekend and to Paul's wife Jackie who made sure that all the hard working members had a comfortable base for the duration of the show. For those of you wanting to visit future events, the club will next be at the Bristol Show at held at the Bath & West showground (Shepton Mallet) on the weekend February 18th & 19th. Keith Ansell and his team will no doubt put together another great display of bikes from the South West of England. Make sure you pop along to say hello and take advantage of the clubs products on offer.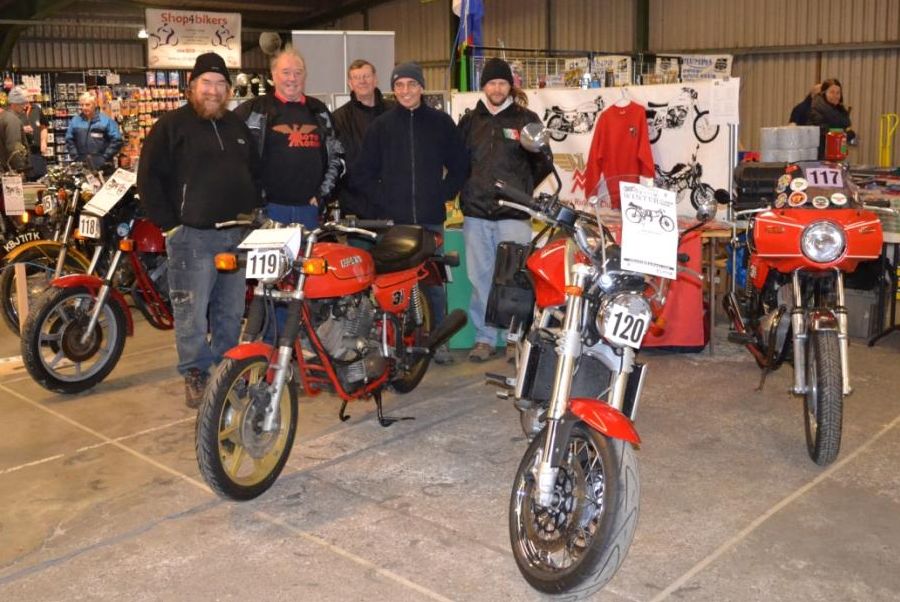 Classic Motorcycle Mechanics Show, Stafford, October 2011
We again had an impressive line up of bikes for the Mechanics show at Stafford. Not only Shirley Suttons exquisite Corsaro Country single but a very special Valantini own by Paul Coxhill. Mark Bailey now has two fine 350 V twins and this time he made available his immaculate standard wire wheeled Sport. Paul Compton a regular contributor to the club stand lent his 83 500 Sport and finally but not least Paul Emmerson rode his 9 ½ to the show to represent Morini's modern era. After our trip to Benzina for tea & cakes the club decided to provide cakes on the stand for those members with a sweet tooth. This proved to be a great success endorsing the clubs ability (well James at least) to exceed members expectations.
A Fine Day for Tea and Cakes, September 2011
If you haven't come across it yet, Benzina is a high-quality magazine devoted to classic Italian motorcycles ( www.teambenzina.co.uk). It is produced with great enthusiasm by Greg Pullen who, once a month, opens his front gate and provides tea and cakes to anyone who turns up on a bike, preferably Italian, preferably classic. As Greg and his family live in deepest rural Wiltshire, we thought it would be a good rendezvous for a Morini gathering and, as an added incentive for people to get their bikes out of the garage, it was decided that the annual award-giving (normally held at the AGM) would take place at the same time. It promised to be a good end-of-season rally and a chance to raise the profile of Morinis, which unjustly seem to lack the prestige of other, er, more well-known Italian marques. By 1pm Greg's yard was crowded with Morinis, mostly 3 ½ Sports and Stradas, but also a 9 ½ and a 1200 Corsaro, a 1200 Scrambler, a 250 twin and a 1960s single, which unfortunately arrived too late for the voting for the awards. As well as the 17 Morinis, there were three Moto Guzzis (a single, a two-stroke trail model and a Le Mans), a couple of Ducatis, a modern Enfield and a few Japanese bikes. The sun came out and it turned into a delightful afternoon, as always on these occasions, catching up with friends and meeting new people. Greg and Rachael were excellent hosts, managing things cheerfully and enthusiastically. The tea and cakes were just what were needed after an invigorating ride. Voting threw up a few dilemmas: should Chris Webber's early Strada be voted Best Drum Brake, Most Original or Best Workhorse? Who would win Best Single, with the Morini single not having arrived at that point? With no Kanguros or Camels present, how could we vote for Best Off-road? All the questions were resolved eventually: the Best Single went to a rather surprised Moto Guzzi rider and we realised that Robin's 1200 Scrambler was technically an off-roader, even if it was suspiciously clean. (Robin subsequently posted a picture on the web forum showing the Scrambler parked on some grass to justify its off-road credentials...) George Lane's well-used Sport was voted Best Workhorse, an attractive and rare Sport won Best Disc Brake and a purple-brown 250 was voted Most Original. Chris's Strada won the Drum Brake category and Mark Bailey's disc-braked Sport was voted Best Overall. In all respects it was a most successful day: a good reason for a ride through some glorious English countryside, an enjoyable social occasion and a chance to broaden awareness of the illustrious Morini name. Everyone who attended is hoping to do the same next year.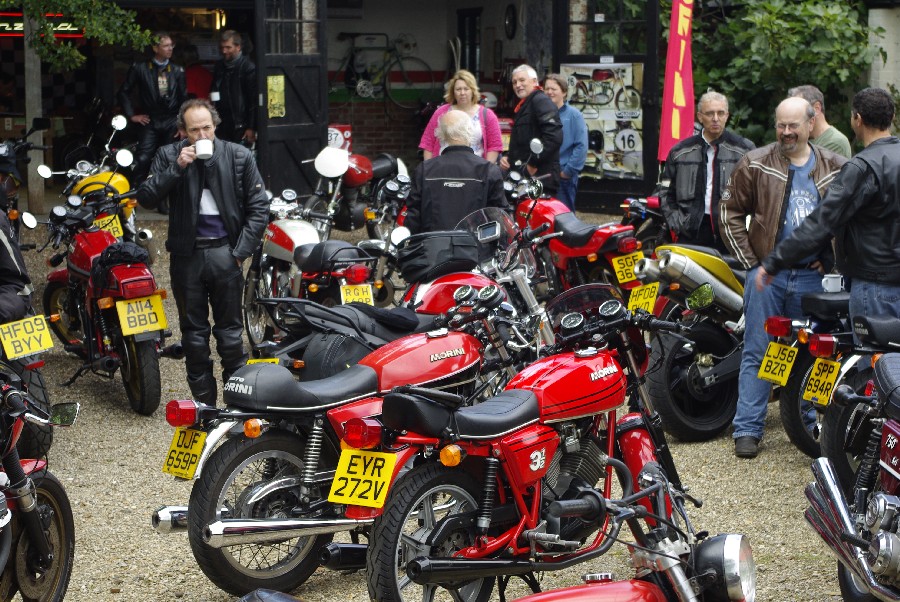 MRC Trackday- Cadwell Park 2011
A big thank you to everybody who participated, watched or helped out at the 2011 Cadwell trackday which was once again a resounding success. Under threatening skies at Cadwell Park a full entry of Morini enthusiasts & their friends enjoyed the club's annual track day event. There was a spectacular variety of machinery on track, and a thoroughly enjoyable day was had by all.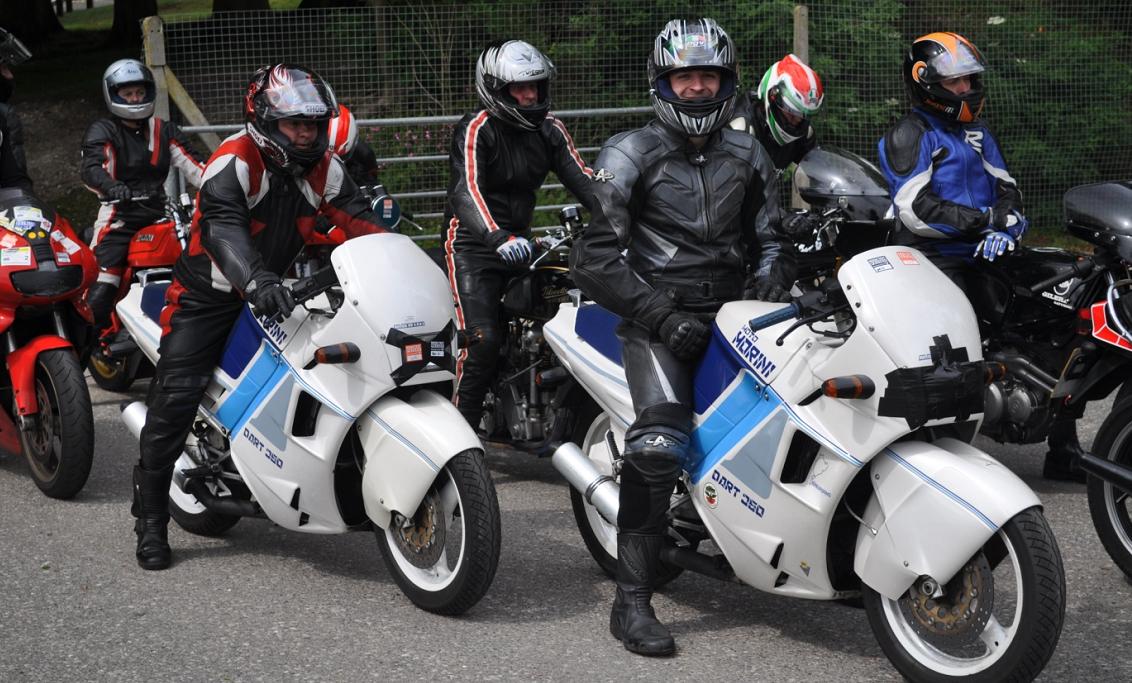 Everything about the day was a huge success and extremely enjoyable for club members and guests alike. Another record year, special thanks must go to our overseas visitors, Bruno (hope you mend soon) & Dieter who made the trip over from Belgium and Theo & Jos Den Ouden who travelled over from Holland. This year we also saw an increased number of Morinis on track which was great to see. For those of you who were first timers, I hope you enjoyed the day look forward to seeing you next year. If you missed it this year then here are a few comments from the day, which may whet your appetite for our 30th trackday next year:
"As always the event was well organised (thanks Dave) with a great mix of mature and competent riders all demonstrating that track days can be friendly and enjoyable whatever the machine you ride." "Hi, Track Day organisers, Just a line to say thank you for one of the very best track days I have attended in more than 50 years of motorcycle sport. The organisation was good, the timing was good, the informality was superb and you even managed to keep the rain off until mid afternoon. A credit to every one involved." "What a great day that was! A fantastic turnout (full house) and very smoothly run, too. Congratulations and thanks to all involved in allowing us out to play" "We had a wonderful day. As usual, it was perfectly organised, up to the weather that once again improved just in time for the track day. Many thanks to the whole team, and especially to the little big man under the hat!" "Thank you SO much for a fantastic day... Your event is always a very well organised affair with a great gathering of mature and competent machinery and pilots of the same calibre, which makes it such a wonderful atmosphere that is safe and exhilarating!" "Everything about the day was a huge success and extremely enjoyable, you should be proud of your club and it's members!" "For my first track day I managed to keep the wheels on the tarmac whilst giving the Strada a good old thrashing. Hopefully next year I can go a bit quicker particularly out of Barn and Charlies where corner speed is so essential."