Morini Riders Club Links
The intention is that this page will grow over time and be a one-stop shop for your useful links from Morini-land. If you have any you think should be included, please email webmaestroATmorini-riders-clubDOTcom
Links to other Morini websites
The Moto Morini factory website: https://motomorini.eu/
Parts and Dealers
Morini Riders Club Products www.morini-riders-club.com/products/products.html
Mdina Italia - UK: https://www.mdinaitalia.co.uk Don't forget Morini Riders Club members get 10% off Morini and Ducati parts!
Moto Hub - UK: https://moto-hub.co.uk/ Don't forget Morini Riders Club members get 10% off parts, labour and dyno!
Lusso Veloce - UK: https://www.lussoveloce.com/
Ducati Development Dortmund - Germany: www.ducati-development-dortmund.de
Herdan - USA: https://herdan.com/collections/
Westfield Fasteners - UK www.westfieldfasteners.co.uk Don't forget Morini Riders Club members get 5% off!
Clubs
BMF: www.bmf.co.uk Affiliate membership of BMF is another benefit of MRC membership
mag: www.mag-uk.org Affiliate membership of mag is another benefit of MRC membership
Moto Morini Club Italia: www.morinispecial.it
The Dutch Morini Club: www.motomoriniclub.nl
The French Morini Club: https://www.motomorinipassion.fr/
The German Morini Club: www.ital-web.de
Press
Benzina Magazine: www.teambenzina.co.uk
Footman James Insurance
We are pleased to be able to offer our members specialist rates on Footman James Insurance policies:
The Morini Riders Club is pleased to announce that it has negotiated a deal with specialist insurance broker, Footman James, securing specialist rates for club members.
Footman James motor policies include UK and European breakdown cover and motor legal expenses as well as personal injury road rage and car-jacking cover as standard. It also offers a range of policy options, including multi-vehicle, laid-up, agreed value and limited mileage cover.
All Morini Riders Club members will be entitled to discounts on their classic insurance through Footman James, and can also take advantage of special rates on their modern everyday car, classic and modern motorcycle and home and contents cover too. In addition the Morini Riders Club has a dedicated relationship manager to work with the club ongoing.
Footman James was launched over 25 years ago as one of the very first insurance brokers dedicated to serving the needs of classic vehicle enthusiasts, and is now a leading name in the industry. During that time it has built-up a unique relationship with vehicle enthusiasts, so much so that over 190,000 customers now trust them to offer protection for over 200,000 vehicles. FJ works closely with classic vehicle clubs across the country, and now, of course, has partnered with the Morini Riders Club, so has a pretty good idea what classic vehicle owners and Moto Morini owners want when it comes to insurance.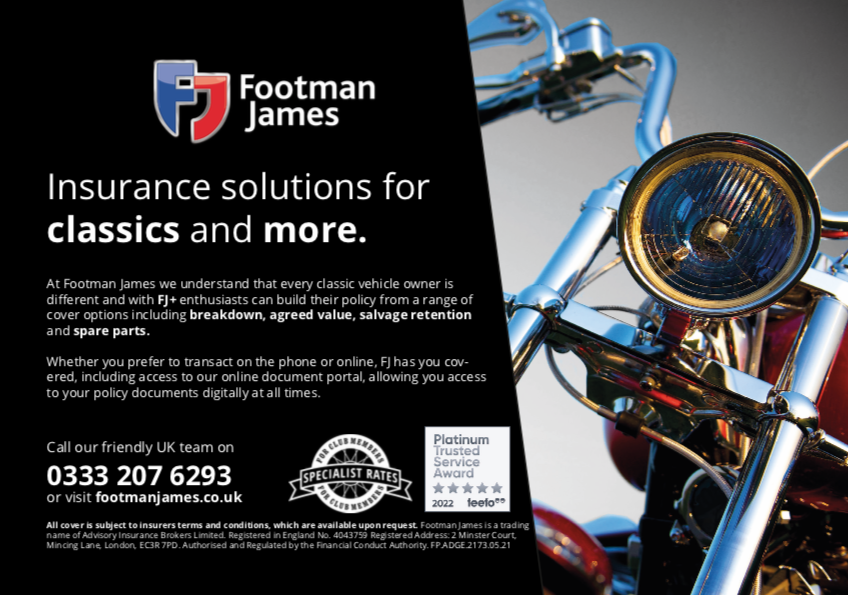 Click here to get a quote with Footman James, and don't forget to have your MRC membership number handy: Footman James