<!**vvvvvvvvvvvvvvvvvvvvvvvvvvvvvvvvvvvvvvvvvvvvvvvvvvvvvvvvvvvvvvvvvvvvvvv>
MOTO MORINI KANGURO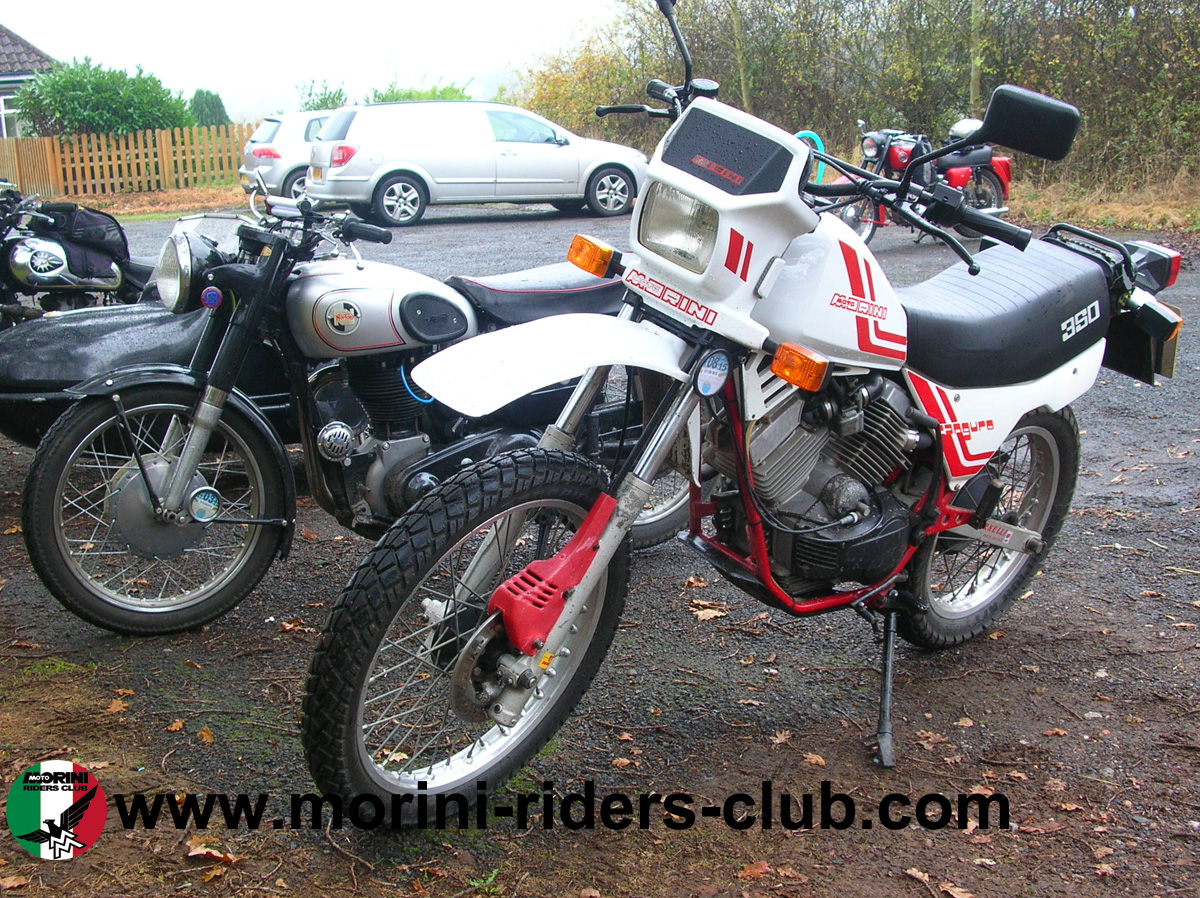 SPEC
344cc (62 x 57mm), OHV, 72-degree V-Twin, 2 Valves/cyl, 11.0:1 compression ratio
2x 25mm Dell'Orto carbs, 6 Gears
35 bhp @ 8,000 rpm, 19ft-lb @ 7,000 rpm
160kg (dry)


OVERVIEW

Morini had a long history in competition, as its founder, Alfonso, was himself a racer. The first single from the late 1940s (a two stroke twin) was used in the ISDT held in 1949 in Wales. Later, 4-strokes based on the Corsaro took up the banner, winning six golds and two silvers in 1971. In using the V-twin engine for off road machines Morini was building on sound experience, culminating in Valentini winning a Gold at the ISDE on Elba in 1981.

First design was for a 500, heavily reworked from the road bike, but with a six speed gearbox, different frame, wheels and cycle parts together with a most amusing (in England) name; the '' Camel'' was born. On mainland Europe interest in the Paris-Dakar race had led to a booming market for machines based on the competitors bikes, and this was Morini's answer to customer demand.

In 1981 Morini introduced the Kanguro, the 350 version of the larger bike, with monoshock suspension being shown at that years Milan show. Initial machines had drum brakes, similar to the Camel, but these were soon replaced with a disc at the front. The original round tube frame was also replaced with square section tubing.

Developments on the larger bike included increasing capacity to 507cc, the '' 501'' model, uprated electrics (originally a mix of six and twelve volts) and electric start, which as with other models could be unreliable with anything other than a first rate battery. Production lasted into 1989, the last version being a Honda Transalp look-alike named Coguaro, very rarely seen in the UK.


PICTURES

MRC cannot be responsible for external links. Please notify us if you feel any external links are inappropriate or are redundant.

<!**^^^^^^^^^^^^^^^^^^^^^^^^^^^^^^^^^^^^^^^^^^^^^^^^^^^^^^^^^^^^^^^^^^^^^^^>