<!**vvvvvvvvvvvvvvvvvvvvvvvvvvvvvvvvvvvvvvvvvvvvvvvvvvvvvvvvvvvvvvvvvvvvvvv>
MOTO MORINI CORSARO 125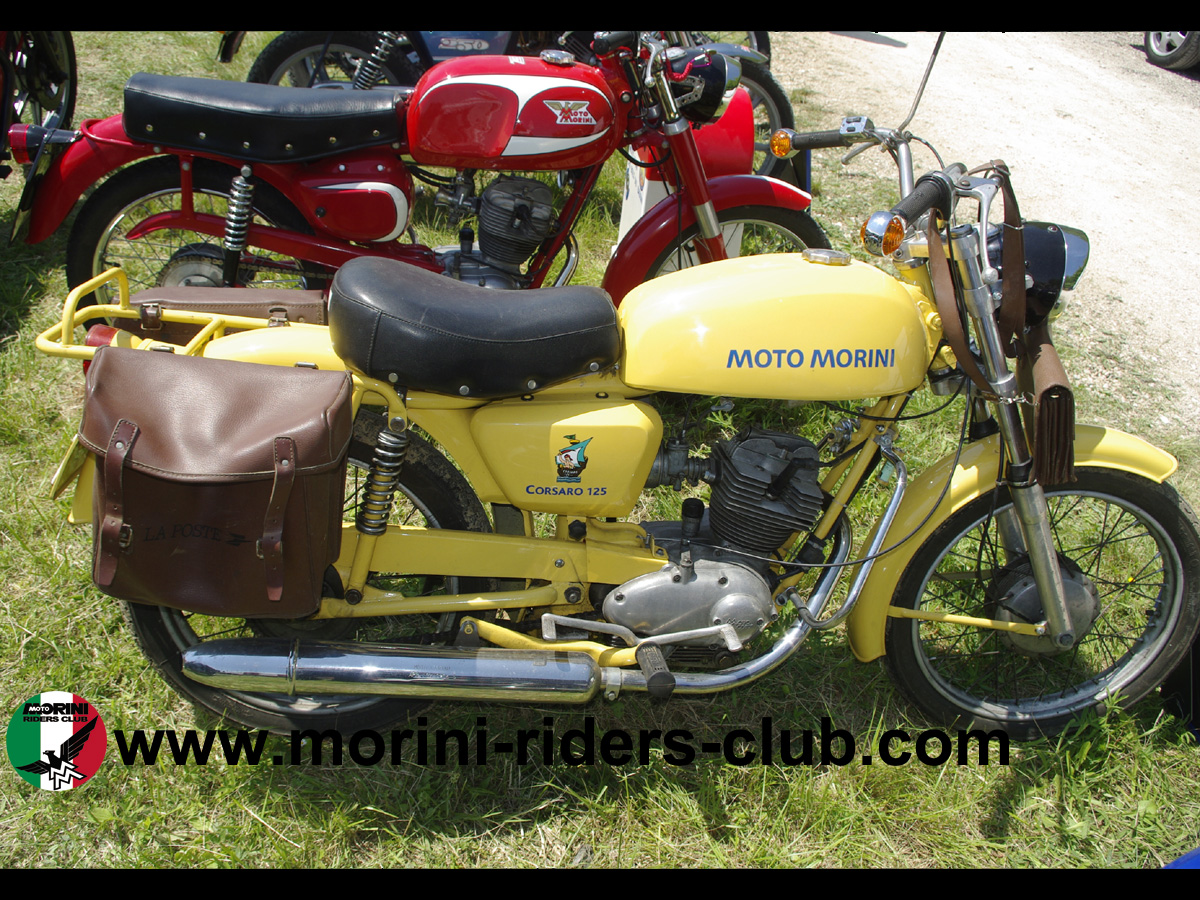 SPEC
123cc (56 x 50mm), OHV, single, 9.8:1 compression ratio
20mm Dell'Orto carb, 5 Gears
9 bhp @ 9,000 rpm
87 kg (dry)
Max Speed : 115 kph
Double cradle tubular frame, telescopic suspension


OVERVIEW

In the 1950s Morini developed a range of 4-stroke single cylinder push rod engines of conventional ohv unit construction design to enable them to compete with Parilla, Gilera, MV Augusta and Mondial. Prior to this 2-strokes had formed the foundation of the company's range. One development of this engine was the 123cc Corsaro (Pirate) introduced from late 1958.

The performance of the single cylinder machine was impressive for its time, and was described in the British press of 1960 as beyond that expected of a 125cc machine. Morini was establishing a name for itself with a string of racing successes with its Sports machines named after card games – the Briscola, Tresette and Settebello.

With an engine inclined 15o from vertical, traditional heel and toe gear change, and typical Italian styling, the machine offered an attractive package for the buyer. For the 1961 season, a development saw the introduction of a Veloce model, with dropped handlebars and sleeker ''race bred'' lines. Typically for any Morini engine, best performance was delivered when the engine was revved hard, when a speed of over 60 mph could be attained.

These machines were not imported into the UK, and restoration and spares are most likely to be hard to come by unless intending owners are prepared to go to classic events in Italy or France, where supplies are slightly easier to come across.


PICTURES
VIDEO
IN THE PRESS
MRC cannot be responsible for external links. Please notify us if you feel any external links are inappropriate or are redundant.
<!**^^^^^^^^^^^^^^^^^^^^^^^^^^^^^^^^^^^^^^^^^^^^^^^^^^^^^^^^^^^^^^^^^^^^^^^>