Welcome to the Morini Riders Club
2021 Morini Riders Club Cadwell Trackday
Registration for the MRCs 38th trackday on 30th June 2021 is now open Here
STOLEN MORINIS
13/09/2020- 2 Morini were stolen overnight Saturday /Sunday from outside the Mercure hotel in Madeley, Telford, while on their way to Italian day at RAF Cosford.
Owners and long-term club good guys Mark and Clare Bridger have owned these bikes for over 30 years
250 2c SKJ602W VIN J 03755
350 Sport KAA 78S - Update- this bike has now been recovered by Police in Telford, thanks to a tip-off from the public.
Please continue to keep your eyes open for the 250, We are a small community and it would mean a lot to be able to reunite Mark and Clare with their bikes. If you have any information, please contact West Mercia Police on 01905332087 quoting incident number 178i13092020 or you can email us: webmaestro@morini-riders-club.com

COVID-19
No doubt you will all be aware of the sad situation gripping the world regarding the spread of Corona virus. Please bear in mind during these difficult times that the club is an entirely volunteer run, not-for-profit organisation. The Committee are continuously monitoring the Government guidelines. Our aim is to mitigate the risks to our members' and the wider public's health whilst also looking to minimise the financial burden on the club that this year will bring.
So that we can keep you informed of the latest information on any club activities, please check our dedicated page at www.morini-riders-club.com/covid19
The MRC diary is now in Google Calendar so you can easily browse dates and import events into your own calendar click here for more information
A Tutto Gas
ATG 369 is now available to download from the Members Area
Membership Benefits:
Membership renewals are now closed. If you missed your renewal please contact the membership secretary
As well as a selection of club products, Memberships (including renewals) can be purchased online by credit or debit card from anywhere in the world and processed through secure servers. click here to visit our membership and products page

MRC membership carries many benefits including dealer discounts, technical help and favourable insurance rates Click here for more information
If you encounter any problems with the website or members only login please email: webmaestroATmorini-riders-clubDOTcom
History
Formed in 1975 by enthusiasts of the then newly imported V-Twin, the Morini Riders Club exists to bring together owners and admirers of these fine looking and handling Italian motorcycles.
We offer technical help, spares, dealer discounts, road test reprints, club regalia, regular meetings and an annual track day- all designed to keep Morinis where they belong: On the road. Members also benefit from a regular magazine 'A Tutto Gas'. Moto Morini was started in 1937 by Alfonso Morini and based in his home town of Bologna in northern Italy. Initially building three wheeled trucks, after World War 2 they designed and built small capacity 2-stroke motorcycles.
Alfonso was very keen on racing and developed a range of successful racing machines, culminating in the 250GP which was to become the worlds fastest ever quarter litre four-stroke single, capable of almost 140mph and which very nearly won the 1963 World Championship with Provini in the saddle.
After Alfonso's death in 1969, the business was run by his daughter, Gabriella. Soon after, the engineer Franco Lambertini joined the company and started work on the modular V-Twin engines which powered the legendary 3 1/2. The modular engine design allowed the factory to produce 250cc, 350cc and 500cc versions of the V-Twin and, using the front cylinder only, 125 and 250cc singles. Most of our Club members own one or more of the bikes from this era. Gabriella decided to sell the family firm to the Cagiva group in 1987. Cagiva installed the now ageing 350 motor into one of their own chassis to produce the Morini Dart. Ing Lambertini worked on a new water cooled 750cc V-twin, but when Cagiva realised this was a better engine than the Ducati 900 (Cagiva owned Ducati at this time), they stopped further development.
Ing Lambertini left the company and Cagiva produced a range of custom-styled bikes before they lost interest in the Morini marque.
In 1996, Morini and Ducati were sold to the Texas Pacific Group. Nothing was heard of Morini for several years until, in 1999, TPG sold the name and manufacturing rights to Franco Morini Motori. Franco is Alfonso's cousin and he started his own business in 1954 specialising in the manufacture of two and four stroke engines. The links back to Morini's past continued when Lambertini subsequently joined Franco Morini. At the end of 2003, Morini Franco Motori and the Berti family, owners of the Sinudyne brand, announced the re-launch of the Moto Morini name. A new factory was built next to the Morini Franco factory and a range of bikes was announced based on Ing Lambertini's all-new V twin design. The first of these 'New' Morinis was the Corsaro 1200 launched in 2005, followed shortly by the 9 1/2.
2007 saw the Morini family buy out the shares of the Berti brothers, and the subsequent formation of Moto Morini SpA- A brand entirely controlled by the Morini family. New models based around the glorious 1200 engine follow- Granpasso, Sport and Scrambler, and with them Morini's racing success returns; Frank Zenatello winning the Italian Roadster cup aboard a Corsaro Veloce in 2008 and again in 2009, whilst Hans Leitner rode a Scrambler to a surprise victory in the Streetbike class at the 2009 Erzberg Iron Road Prologue. The Granpasso was also impressing at the same event, Francesco Catania setting good pace before a nasty fall ended his race. Unfortunately, race success, fantastic bikes and decent press reviews were not enough to secure sufficient sales, and after a year in which the whole Automotive industry suffered globally, Moto Morini were forced into liquidation at the end of 2009. At the end of 2011, Morini enthusiasts the world over were glad to hear of the aquisition of the Moto Morini brand by Eagle Bike, and the wheels at Moto Morini are turning once more.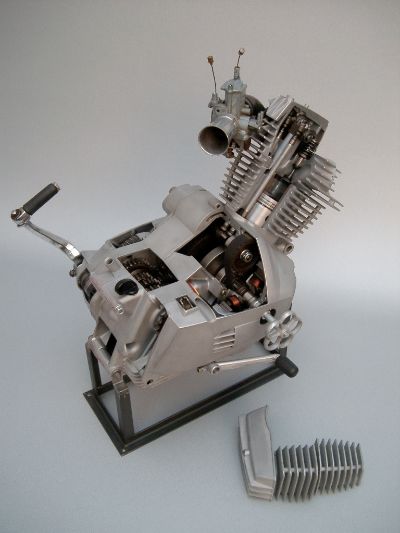 Insurance
We are pleased to be able to offer our members specialist rates on Footman James Insurance policies:
Forum registration VIP code: g7AW3f
The contents of this website represent the views of the contributors and do not necessarily reflect the views of the Morini Roders Club.
This site has been tested using IE 6.0, Firefox 1.0.7, Netscape 8.1 and Opera 8.52. If you are using an older version of these browsers, it may not work as intended.
The code behind the menus used on this site was designed by Stu Nicholls at